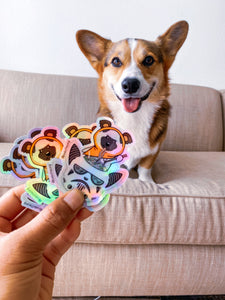 Holographic May the Pho Be With You Sticker
Did you know that Darth Vader's favorite meal was phở? It's true. Little known secret is that Darth Vader used to send his storm troopers across the galaxy to the forest moon of Endor to fetch him some phở from his favorite Ewok, Maslow. 
A (p)homage to Star Wars and Vietnamese culture, this dye cut sticker is made from a durable vinyl with a laminate that protects against scratching, rain and sunlight. Perfect for water bottles, cars, laptops, bikes, or notebooks.  
Original Design created by: @mochthecorgi (Kenneth Manas)
______
100% of proceeds from merchandise sales through 8/31 will go to Colin Kaepernick's @yourrightscamp to help raise awareness on self-empowerment and interacting with law enforcement. In the fight against police brutality, it's critical that we invest in organizations that advance the liberation and well-being of Black and Brown communities.
With love,
Pavlov, Tram, and Anthony ☺️